---
To move directly from one dog's page to the next, click on a button above. Present Dogs takes you back to the index for this section.
---
©2003, 2004 Laurie Wells and Sherry Wallis. No part of this site, photos, artwork, or graphics may be reproduced or copied without permission. Any material on this site not copyrighted by the above individuals is used with permission.
---
Please report any problems with this site to the Webmistress and Designer, Sherry E. Wallis.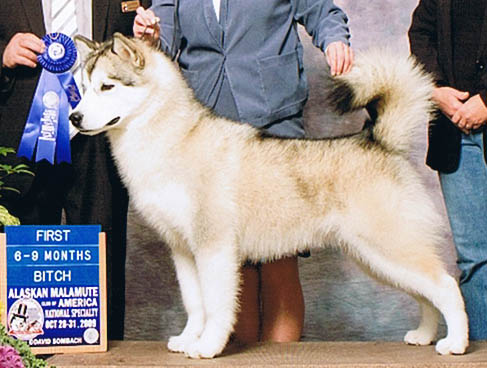 Windrift's Onan Break The Spell, "Tori"
Breeder: Laurie A. Wells
Owner: Perry Hazelwood & Laurie A. Wells
CERF tooyoung, OFA to young, CHD AMCA 13938.
One of the pups out of Jagger and Kelly. Tori lives in Kentucy with Perry. Tori made her debut at the 2009 Regional with a 2nd in her class and a 1st in her class at the National!
Scroll down past the photo or click here to go directly to her Pedigree. Clicking on an underlined name will open a window with that dog's picture. It will close automatically.